Rugged & Robust outdoor mobile phone
World class high quality rugged & robust outdoor mobile phones. Specially for Outdoor, Oil Companies, Mining Industry, Trekkers, Military, Ice areas, Wild life workers etc.
Wherever and whenever, rugged & robust outdoor mobile phones will always guarantee the users' communication freedom by his strong indestructible body and rich outdoor mobile applications.
OEPT(Outdoor Environment Performance Test) standard for outdoor mobile phones. The OEPT standard for outdoor phones is created according to years of experiences on communication equipment design/manufacture and scientific data analysis on users' feedback. The OEPT standard will promote the development and prosperous of outdoor mobile phones.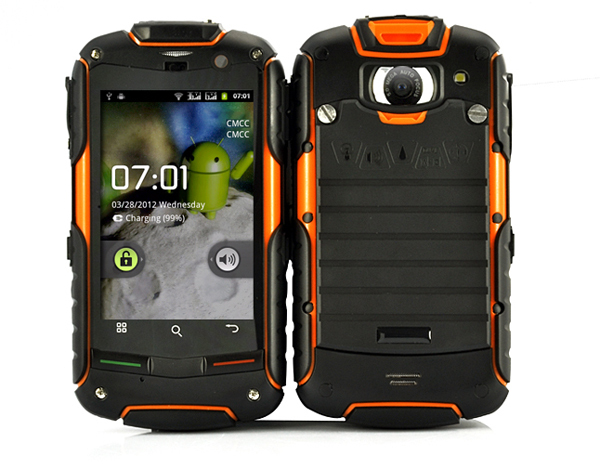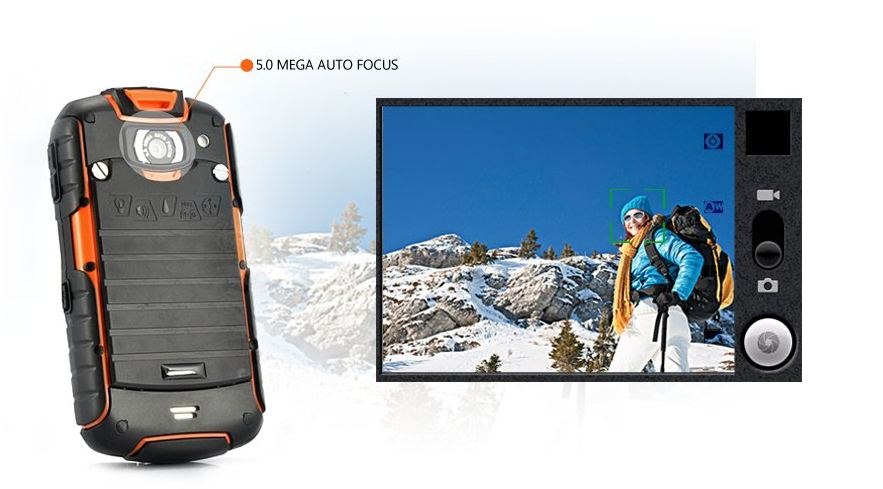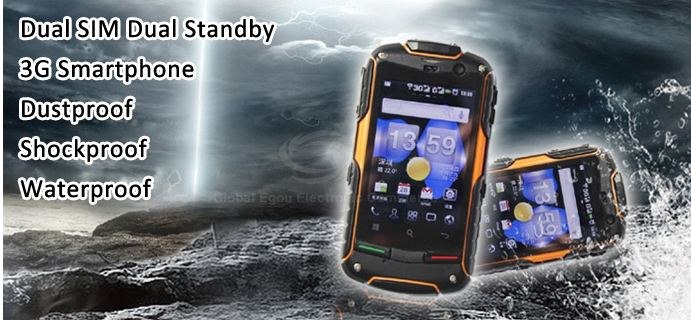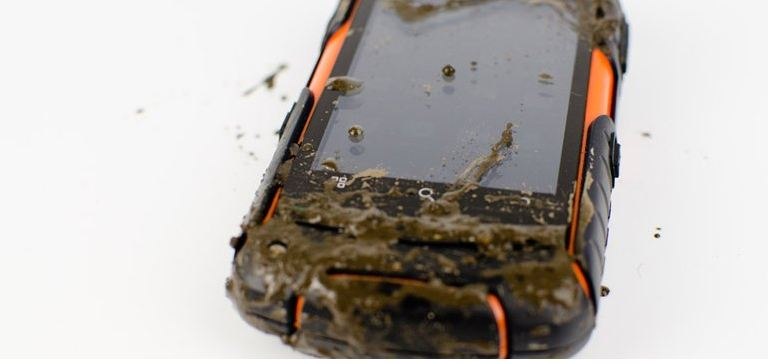 Product Features and Specifications
CE, RoHS, OEPT Certified!!
◇ Platform     
 * Operating system  Android 4.0 
◇ Characteristic     
 * Type  Dual SIM(WCDMA+GSM)  
  Rugged Level IP67, waterprof and dust prenvention 
 * Sceeen Size/ Pixel  3.2" HVGA 
 * Capacitive Touch Panel  Yes 
 * Required Keys  Touch key: Menu+Search+Back; Physical key: Send+Home+End 
 * Internal Memory  4GB ROM+512MB RAM 
 * External Memory Connector Micro SD, up to 32GB  
 * Camera  5.0M AF+0.3M FF camera 
 * Multimedia  MP3&MP4 player 
 * GPS  Yes,support  GPSOne Gen 7 
 * Wi-Fi IEEE 802.11b/g/n, and support WAPI 
 * Bluetooth  Yes, 2.1 
◇ Processor     
  CPU Qualcomm MSM8225 @ 1.0GHz Dual Core 
◇ RF Specification     
 * Mode  UMTS/GSM/GPRS/EDGE  
 * WCDMA SIM Band (Cellular)  UMTS:850/1900/2100 MHz  
 * GSM SIM Band (Cellular)  GSM :850/900/1800/1900 MHz  
Phone Specification (Hardware)     
◇ Bearer    
◇  3G (WCDMA)   
 * HSDPA Yes 
 * USIM support Yes 
 * Maximum Downlink Data Rate 7.2 Mbps 
 * Maximum Uplink Data Rate 384 Kbps 
◇ Main Camera     
 * Main camera built-in or accessory Built-in 
 * Pixel 5.0M pixel  
 * Camera technology  CMOS, Auto Focus 
 * Zoom  Digital zoom 4X  
 * Picture formats  JPEG 
 * Video Support video capture, simultaneity audio record  
◇ Secondary Camera     
 * Pixel  300K 
 * Camera technology  CMOS 
◇ Keypad / Button / Switch     
 * Power button  Yes 
 * Send and End phone buttons  Yes 
 * Home Key  Yes 
 * Search Key  Yes 
 * Menu and Back Key  Yes 
 * Side buttons  Volume up/down keys/Camera Key and Torch Key 
 * Back-light color  White 
◇ Storage    
 * ROM Flash  4GB 
 * RAM  512MB 
 * Extended Storage  Micro SD 
 * Max support memory card size  32GB 
◇ USIM    
 * USIM support  Yes 
 * SIM card slot   Two 
◇ USB    
 * USB revision USB USB 2.0 high speed  
 * USB charging USB Yes 
 * System I/O connector  Micro USB (5pins) 
◇ Bluetooth     
 * Bluetooth revision  Ver 2.1 
 * Bluetooth power class  Class 2 
 * Support profile  SDP/GAP/A2DP/AVRCP/HSP/HFP/OPP/PBAP 
◇ GPS    
 * GPS Yes    
◇ FM     
 * FM Radio Yes 
◇ WLAN     
 * WLAN revision  IEEE 802.11b/g/n 
◇ Sensor    
 * G-Sensor  Yes 
 * Proximity sensor Yes 
 * E-Compass  Yes 
◇ Physical Interface     
 * Notification style  Notification by  display, keypad back-light, sound and vibration \ 
 * Audio jack  Yes 
 * Mic  1 
 * Speaker  1 speaker  
 * Stylus  N/A 
 * Lanyard hole  Yes 
 * I/O Cover I/O  Yes 
◇ Battery     
 * Battery technology Polymer Lithium Ion  
 * Battery capacity  2000mAh  
 * Standby time (single SIM) 360h 
 * Standby time(dual SIM) 120h 
 * Voice talk time  450m 
 * Charging time  < 4 hours